July 2020 —
5 minute read
Should There Be an App for That?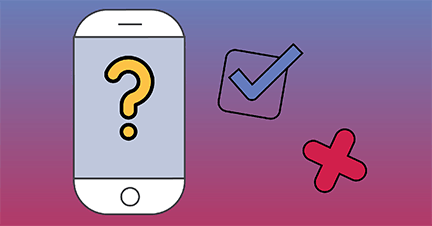 Before you greenlight a mobile app project, it's essential to vet your idea and development resources first.
To begin, do your research. With nearly 2.56 million Android apps in the Google Play Store and 1.85 million iOS apps in Apple's App Store in early 2020, according to statista.com, you're likely to have some competition to attract a viable user base.
After competitive, market, and user research, weigh the pros and cons of committing to custom mobile native app development. If you answer 'NO' to any of the questions below, reconsider your build strategy, and focus on developing a mobile-friendly web-based application.
If you can answer 'YES' to all the questions, native app development may be right for you. If that's the case, contact Lelander about partnering up on your next app development project.
Should there be an app for that?
So, you have an app idea, great! If you can answer 'YES' to the following questions, a native app build is right for you.
Have you conducted thorough market, competitive, and audience research to vet your app idea?
YES
NO
Stop here. Do your research first!
Will the app attract regular repeat users?
Will the app be used on-site at an event or space with unreliable wifi or cell service?
YES
NO
Consider a responsive website.

Will the app utilize device features like geolocation, camera, push notifications, share functionality, or touch commands?
YES
NO
A mobile-friendly build may be better.
Do you have a healthy budget (at least $50K)?
YES
NO
Invest your dollars into a web app.
Do you have the timeline and resources to build your app in compliance with the App Store or Google Play Store?
Native app builds require code-specific expertise and a generous timeline.
YES
NO
Build web-based to meet your deadline.
Congrats! A native app build is in your future!
Need a development partner?
Contact Lelander at (314) 329-1007
to set up a consultation or visit
lelander.com
to learn more about our capabilities.
It's time to pivot. Web-based is the way to go.
So your path ended at 'NO'. We still consider that a win!
Contact Lelander to chat about reimagining your app idea for the web.